The ad MERCEDES-BENZ TOURISMO 16RHD coach bus has been sold and is not included in the search!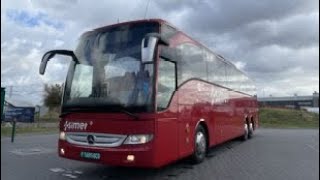 1/27
Year of manufacture
09/2008
Location
Poland
Wrocław
Placed on
more than 1 month
Description
Fuel tank
2 units, 800 l (400 l + 400 l)
Cabin
Autoradio
CD, MP-3, CD-changer
Cruise control (tempomat)
Electrically operated mirrors
More details
Colour
burgundy, metallic
Autobus w bardzo dobrym stanie. Podwójne szyby boczne, Webasto, klimatyzacja, toaleta. Wszystkie fotele z pasami bezpieczeństwa, stolikami, czyszy ta zadbane. Nie potrzebuję wkładów finansowych. Cena do dogadania. Zapraszam obejrzeć do Wrocławia.
Автобус в дуже доброму стані. Має подвійні бічні вікна, webasto, батареї опалення по салону, клімат-контроль, туалет, всі сидіння обладнані ременями безпеки. Взагалі немає іржі. Хороші колеса. Можливе розмитнення та перший облік на території України. Запрошую до контакту.